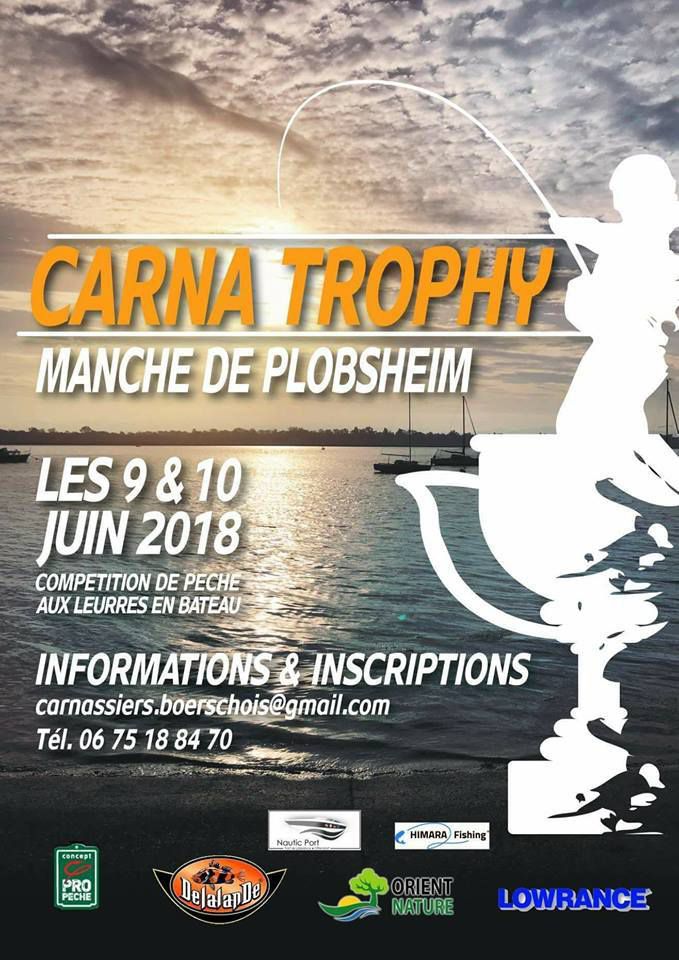 Salut à tous.
Hi everybody.
Retour en détail sur l'open Carna Trophy qui c'est déroulé au plan d'eau de Plobsheim, et qui était organisé par les carnassiers Boerschois.
Back in detail on the open Carna Trophy which took place at Plobsheim, which was organized by carnassiers Boerschois.
Prenez une bière, voir deux, et des chips, c'est un peu long.
Have a beer, see two, and chips, it's a bit long.
Les enseignements du préfishing.
The lessons of prefishing.

Comme tout bon compétiteur qui se respect, il va de soit que j'ai voué pas mal de mon temps au préfishing, non pas pour loger les poissons proprement dit, mais essayer de comprendre un peu le cycle d'activité et d'avoir une idée plus précise des zones à exploiter.
En zone, j'en exploite deux à fond, une au sud, une au nord et une troisième bonus que j'ai "découverte" sur une info de mon équipier qui a pêché le plan d'eau début Mai.
Like any good competitor who respects himself, it goes without saying that I spent a lot of my time prefishing, not to house the fish itself, but to try to understand the cycle of activity a little and to have a more precise idea of the areas to be exploited.
In the zone, I exploit two thoroughly, one in the south, one in the north and a third bonus that I "discovered" on an info of my teammate who fished the water at the beginning of May.

Ces préfishing m'ont bien apportés ce que j'espérais, deux zones fiables avec des poissons de bonnes tailles et qui réagissent tout de même pas trop mal. Par contre ils ne se déclenchent, principalement que sur quelques leurres bien précis, dans une seule gamme de couleur.
Ça peu paraître un peu prétentieux d'affirmer cela, mais j'ai bel et bien essayé beaucoup de leurre et de couleur et disons que 95% des prises sont faites avec cette sélection minimaliste.
These prefishing me well brought what I hoped, two reliable areas with fish of good sizes and which react anyway not too badly. By cons they are triggered, mainly on a few lures very specific in a single range of color.
It may sound a little pretentious to say that, but I did try a lot of lure and color and say that 95% of the shots are made with this minimalist selection.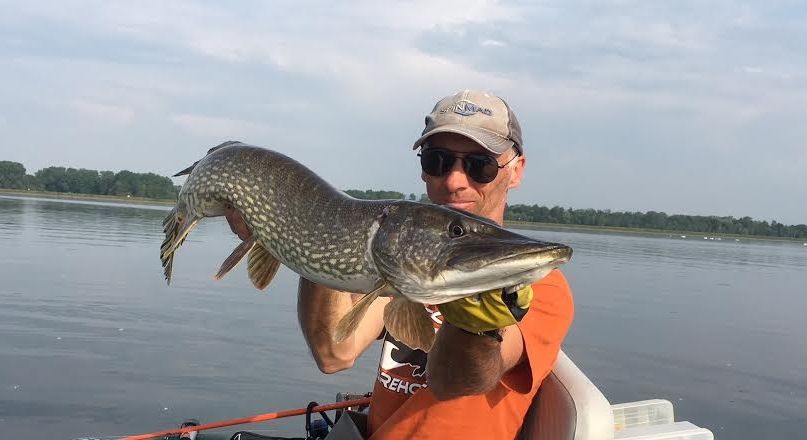 Toutes mes sorties préfishing ce sont soldées par des prises de poissons comme celui en photo, parfois deux, trois. J'ai donc deux zones fiables, avec du fish, mais il faut camper dessus et attendre sans se démotiver que ça frappe, et ça frappe c'est sûr, d'ailleurs à tous les tours le leurre est coffré, signe que sa se déplace pour manger et pas dégager l'intrus.
All my pre-outs are sold by catching fish like the one in photo, sometimes two, three. So I have two reliable areas, with fish, but you have to camp on it and wait without demotivating that it strikes, and it hits for sure, moreover every round the lure is creed, a sign that his move to eat and not clear the intruder.

Reste maintenant à choisir la zone pour le premier tour.
Now remains to choose the area for the first round.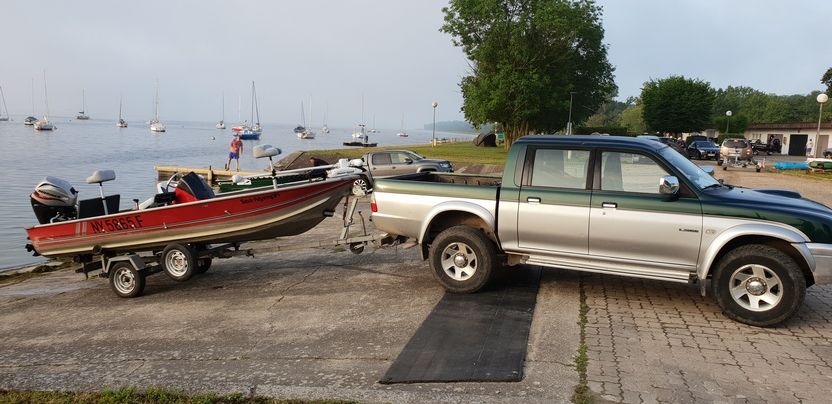 Samedi première manche, début du bal.
Saturday first round, start of the ball.

En adéquation avec Thomas (mon binôme), je jette mon dévolu sur le Nord, les poissons sont plus jolis et c'est moins loin de la mise à l'eau.
On a aussi convenu d'avoir en permanence un des leurres qui fait la différence à l'eau, que ce soit lui ou moi. Sur les phases de changements Thomas variera sur la couleur en gardant la même taille et moi je garderais une des couleurs "magique" et changerais uniquement de taille.
In line with Thomas (my buddy), I set my sights on the North, the fish are prettier and it is less far from the launch.
We also agreed to always have a decoy that makes the difference to water, whether it's me or me. On the phases of changes Thomas will vary on the color keeping the same size and I would keep one of the colors "magical" and only change size.

Avec la carto on se place pile poil sur la dérive et en même pas 15 lancés je prends un premier poisson de 57, maille à 60 c'est mort, mais on est dans le vrai.
Je retouche un deuxième fish après un léger déplacement, lui aussi pas maillé, validé à 59,8.
With the carto we put pile on the drift and not even 15 launched I take a first fish 57, mesh 60 is dead, but we are in the right.
I edit a second fish after a slight displacement, also not mesh, validated at 59.8.

On est bon et mon équipier ouvre le compteur avec un poisson de 65. On insiste, il y a des poissons de calibre supérieur ici, mais en vain.
We are good and my teammate opens the meter with a fish of 65. We insist, there are fish of higher caliber here, but to no avail.

On décide de se déplacer d'une cinquantaine de mètre histoire de voir si les fish ne sont pas plus sur le bord du plateau. Thomas patate sont leurre entre deux potamots et à l'impact il ferre et décroche un poisson, mais en gros malin, il continu sons cranking et 5 tours de manivelle plus tard renvoie un ferrage de bœuf. Le fish arrive au bateau et là on jauge le fish et c'est gros.
We decided to move about fifty meters to see if the fish are not over the edge of the board. Thomas potato are lure between two pondweeds and at the impact he fels and picks up a fish, but by all odds, he continues cranking sounds and 5 crank turns later returns a boot of beef. The fish arrives at the boat and there we measure the fish and it is big.

J'épuise le poisson et c'est la teuf sur le bateau, c'est métré. Mesure validé à 101,5.
I exhaust the fish and it's the egg on the boat, it's measured. Measure validated at 101.5.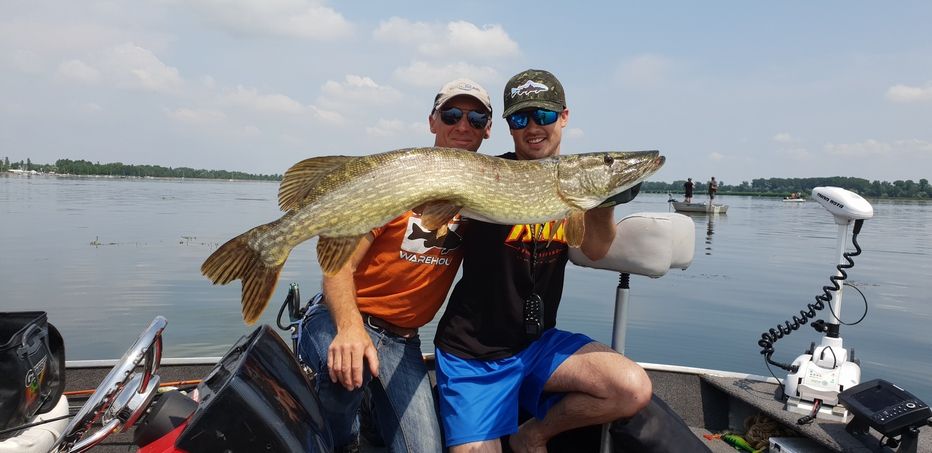 Bravo gamin.
Inutile de vous dire qu'on a le moral à bloc et qu'il va falloir un tsunami pour que l'on quitte la zone.
Needless to say, we have the morale and we will need a tsunami to leave the area.

Comme prévu la pêche se durcie, on est en plein dans le créneau horaire de la looze, en gros 14h/16h. on choisi donc de rester sur de petits postes et de les pêcher une demi heure, trois quart d'heure et de bouger si ça ne frappe pas. Cette stratégie paye puisque Thomas touche un 62 et sur un autre poste je retape un 70, toujours au même leurre.
As expected the fishing is hardened, it is in full time slot looze, roughly 14h / 16h. so we chose to stay on small positions and fish for half an hour, three quarters of an hour and move if it does not hit. This strategy pays because Thomas touches a 62 and on another post I retype a 70, always the same lure.

Il nous reste une heure de pêche, il manque un poisson pour fermer le quota, on garde la même stratégie et ça paye une nouvelle fois, Thomas, en grande forme assure une dernier brochet de 67,2.
We still have an hour of fishing, a fish is missing to close the quota, we keep the same strategy and it pays again, Thomas, in great shape ensures a last pike of 67.2.

C'est fait on a le quota et la manche est terminée.
It's done we have the quota and the round is over.

Radio concours annonce très, très peu de quota et on devrait être bien classé au provisoire. Ça se confirme au classement intermédiaire, nous sommes deuxième, seulement deux équipes ont le quota, mais ceux qui nous devance, Christophe et son fils de 8 ans, ont un très solide quota avec des poissons de 70+ et un silure bonus.
Radio contest announces very, very little quota and we should be well ranked in the interim. This is confirmed in the intermediate classification, we are second, only two teams have the quota, but those ahead of us, Christophe and his 8 year old son, have a very strong quota with 70+ fish and a bonus catfish.

Tout reste à faire et à refaire.
Everything remains to be done and redone.
Dimanche deuxième manche, fin du bal, début du carnaval.
Sunday second run, end of the ball, beginning of the carnival.

Tout est à refaire avec de nouveaux poids dans la balance: garder la même zone sachant qu'elle a été beaucoup exploitée la veille et qu'il y aura un max de bateau dessus, c'est sûr, où se lancer au sud?
All is to be done again with new weight in the balance: keep the same area knowing that it was much exploited the day before and that there will be a max of boat on it, for sure, where to launch in the south?

Choix Cornélien des plus difficile, il y va d'une victoire.
Corneli's choice of the most difficult, there is a victory.

La nuit portant conseil, on décide de reprendre la zone Nord et comme prévu il y a beaucoup, beaucoup de monde autour de nous, tous le monde veut sa part du gâteau, mais force est de constater que le gâteau n'est pas actif, personne ne prend rien et nous non plus. Au bout d'une heure la décision est prise de bouger au Sud en faisant une halte sur la zone bonus, elle est vide de pêcheur depuis le matin.
The night on board, we decided to take the North area and as expected there are many, many people around us, everyone wants his piece of cake, but it is clear that the cake is not active, no one takes anything and neither do we. After an hour the decision is made to move south by stopping on the bonus area, it is empty fisherman since the morning.

Sur la route on aperçoit, au loin, Christophe et son fils qui font valider un brochet de 111, mais dans la manœuvre le gosse passe à l'eau, son père en voulant le rattraper se plante un hameçon dans la mains. Fin d'open provisoire pour lui direction urgence. A noter que le fish a été fait par Thiago le gosse, la classe.
On the road we see, in the distance, Christophe and his son who have validated a pike of 111, but in the maneuver the kid goes into the water, his father trying to catch up a stick hooks in his hands. End of temporary open for him direction emergency. Note that the fish was made by Thiago the kid, the class.

Arrivé sur zone on se place et on commence a envoyer les leurres. 10/15 lancés et je prends une petite touche, j'envoie un ferrage et le fish se bat sur place. C'est lourd et j'annonce silure, mais quand ça arrive au bateau, merde c'est pas un silure, c'est encore un métré.
Arrived on zone we place ourselves and we start to send the lures. 10/15 thrown and I take a touch, I send a shoe and the fish is fighting on the spot. It's heavy and I announce catfish, but when it arrives at the boat, shit it's not a catfish, it's another big pike.

Thomas assure à l'épuisette et boum doublé sur le week end, on est plus que chaud!
Thomas ensures the net and doubled boom on the weekend, we are more than hot!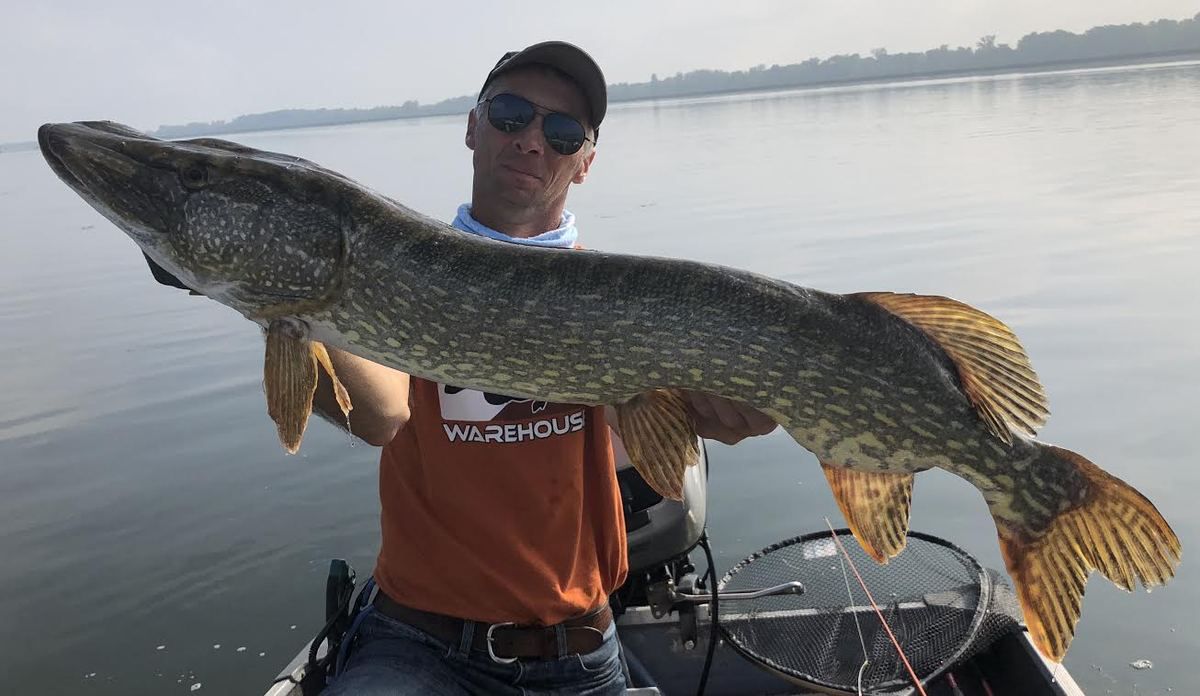 Sur un nuage
On valide très rapidement le poisson, 102, verdict ce sera camping sur la fosse.
We validate very quickly the fish, 102, verdict it will be camping on the pit.

C'est encore la bonne option en une demi heure je valide un autre brochet de 67,2 et un silure de 90,5. Thomas lui enchaine deux pins.
This is still the right option in half an hour I valid another pike of 67.2 and a catfish of 90.5. Thomas chained him two pines.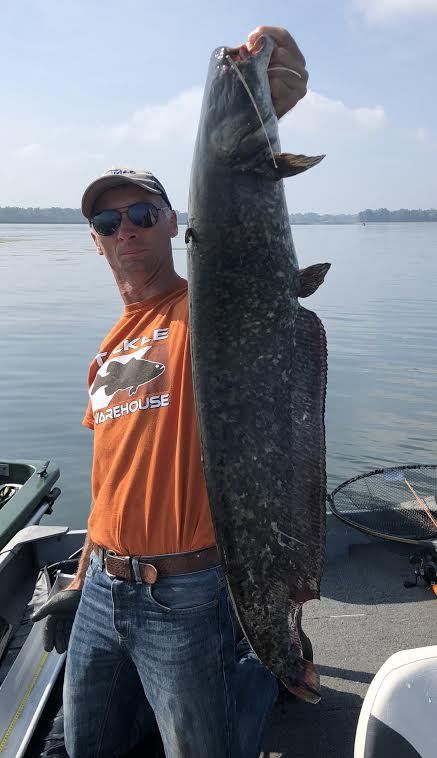 Bon on a deux fish au compteur plus un bonus, ça fait deux heures que l'on bombarde la zone, pour nous plus ne bouge et il se prend un peu de poisson à droite à gauche.
Décision prise on va sur la zone sud, validée en préfishing, y a toujours au minimum un poisson à faire et c'est Thomas qui assure ce poisson de 66.
Well we have two fish in the counter plus a bonus, it's been two hours that we are bombing the area, for us no longer move and it takes a little fish right on the left.
Decision taken we go on the southern zone, validated in prefishing, there is always at least one fish to make and it is Thomas who insures this fish of 66.

Après un ponçage en règle de la zone, décision est prise de remonter vers la base en stationnant sur une zone que je ne connais pas du tout, mais la carto m'inspire et y a Lio et Christophe, qui est revenu des urgences, donc ça ne doit pas être mauvais.
After a sanding rule of the area, decision is taken to go back to the base by parking on an area that I do not know at all, but the carto inspires me and there are Lio and Christophe, who came back emergencies, so it must not be bad.

Ça se confirme puisque je prends un 63 et un 75 pour clôturer le quota.
This is confirmed because I take a 63 and a 75 to close the quota.

Quota bouclé, on décide de bouger sur une fosse profonde pour tenter de refaire un silure, cela nous ferrais un deuxième poissons bonus, et il reste une heure de pêche à peine.
Quota curly, we decide to move on a deep pit to try to remake a catfish, it would make us a second bonus fish, and there is only one hour of fishing.

Pour le coup c'est en vain, mais le quota est bouclé avec un poisson bonus, donc on ne devrait pas trop dégringoler dans le classement.
It's in vain, but the quota is looped with a bonus fish, so we should not too much tumble in the ranking.
Épilogue.
Epilogue.


Radio concours nous annonce bien classé, podium obligatoire, mais une incertitude persiste. Si Christophe a fermé son quota sur deux heures de pêche, ça va se jouer au millimètres, et il en est capable.
Malheureusement pour lui, et heureusement pour nous il ne ferra que trois poisson en deux heures d'open et pratiquement tout seul, chapeau. Cela le pose à la seconde place.
Radio contest announces well ranked, mandatory podium, but uncertainty persists. If Christophe has closed his quota on two hours of fishing, it will be played to the millimeter, and he is able.
Unfortunately for him, and fortunately for us he will only make three fish in two hours of open and practically alone, hat. This puts him in second place.

Le verdict est sans appel, Plobsheim 2018 est pour nous, avec deux quotas, tous deux garnis d'un métré et un silure bonus.
The verdict is final, Plobsheim 2018 is for us, with two quotas, both filled with a quantity and a bonus catfish.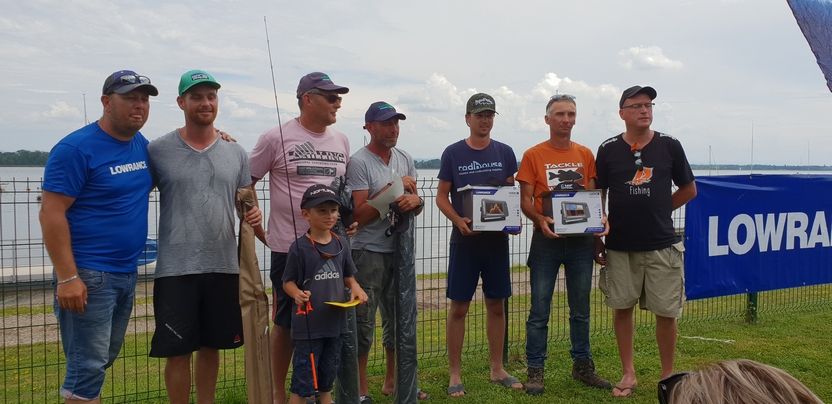 Conclusion.
Conclusion.

On a garder la même stratégie de A à Z et ça a payé. Tout n'a pas tété simple mais on y a cru jusqu'au bout.
100% de nos poisson ont été fait avec les leurres et la gamme de couleur validées en préfishing, coïncidence ou théorie du complot? Je vous laisse disserter dessus.
We kept the same strategy from A to Z and it paid off. Everything was not simple but we believed until the end.
100% of our fish were made with decoys and color gamut validated in prefishing, coincidence or conspiracy theory? I leave you to talk about it.



Remerciements.
Thanks.

Merci à Mickael et toute son équipe pour l'organisation, aux commissaires pour leur temps passé sur l'eau.
Merci aux sponsors et partenaires pour la dotation.
Thanks to Mickael and all his team for the organization, to the marshals for their time spent on the water.
Thanks to the sponsors and partners for the staffing.

Merci à Jérémy pour le prêt de son bateau pour le week end.
Merci à Thomas, équipier modèle qui m'a fait 200% confiance et qui a assuré, bravo gamin!
Merci à Raise Fishing pour son soutien.
Thanks to Jeremy for the loan of his boat for the weekend.
Thanks to Thomas, model teammate who made me 200% confidence and who assured, bravo kid!
Thanks to Raise Fishing for his support.

Merci aux brochets pour leur contribution et désolé pour tous les ferrages un peu appuyés.
Thanks to the pikes for their contribution and sorry for all shoeings a little supported.
Cartons rouge.
Red cards.

Carton rouge à tous les compétiteurs qui se sont cassés avant le podium!
Red card to all the competitors who broke before the podium!
Sérieux même si je suis déçu de ma prestation sur un open, ou que j'ai de la route en retour, je reste jusqu'au podium par respect pour les organisateurs.
Serious even if I am disappointed with my performance on an open, or that I have the road back, I stay up to the podium out of respect for the organizers.
A+++ Ludo.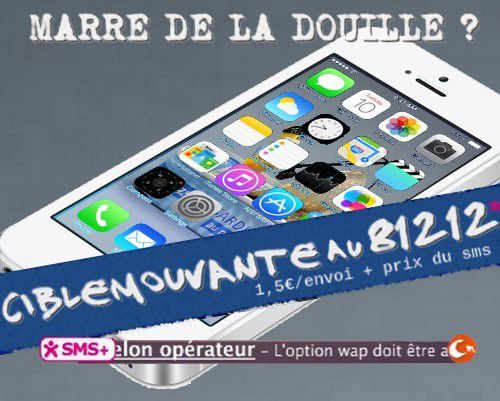 Pour être informé des derniers articles, inscrivez vous :